Between hard and soft tonneau covers, the first ones are more popular because of their better capability to provide a suitable combination of bed security and weather protection. But that also varies within brands based on designs, materials, and other properties.
And clearly, as users' preferences also depend on those variations, I chose 2 hugely popular sought-after hard tonneau covers to scrutinize their differences and present them to you: FX3 from Gator and MX4 from BakFlip.
Does BakFlip MX4 ring a bell? If yes, you must have read about it in another article I wrote. Then it will be easier for you to understand the Gator FX3 VS. BakFlip MX4 argument. Let's bring it on!
Overviews Of Gator FX3 and BAKFlip MX 4
Gator FX3
The signature Gator tonneau cover, FX3, comprises Fiberglass Reinforced Polymer (FRP), known for its dent resistance. Also, the FRP coating plays a vital role in sustaining the product's performance.
It has a textured appearance with a glossy black finish. So it will look brand-new even after long-term use. Its end caps and hinges have the same glossy black coating to improve its appearance.
You will see a locking mechanism with its tailgate for providing weather resistance. You have to shut the tonneau cover on the tailgate's top.
Along with other benefits, it provides easy bed access with scruff and scratch resistance. It has an American manufacturer like its counterpart.
BakFlip MX4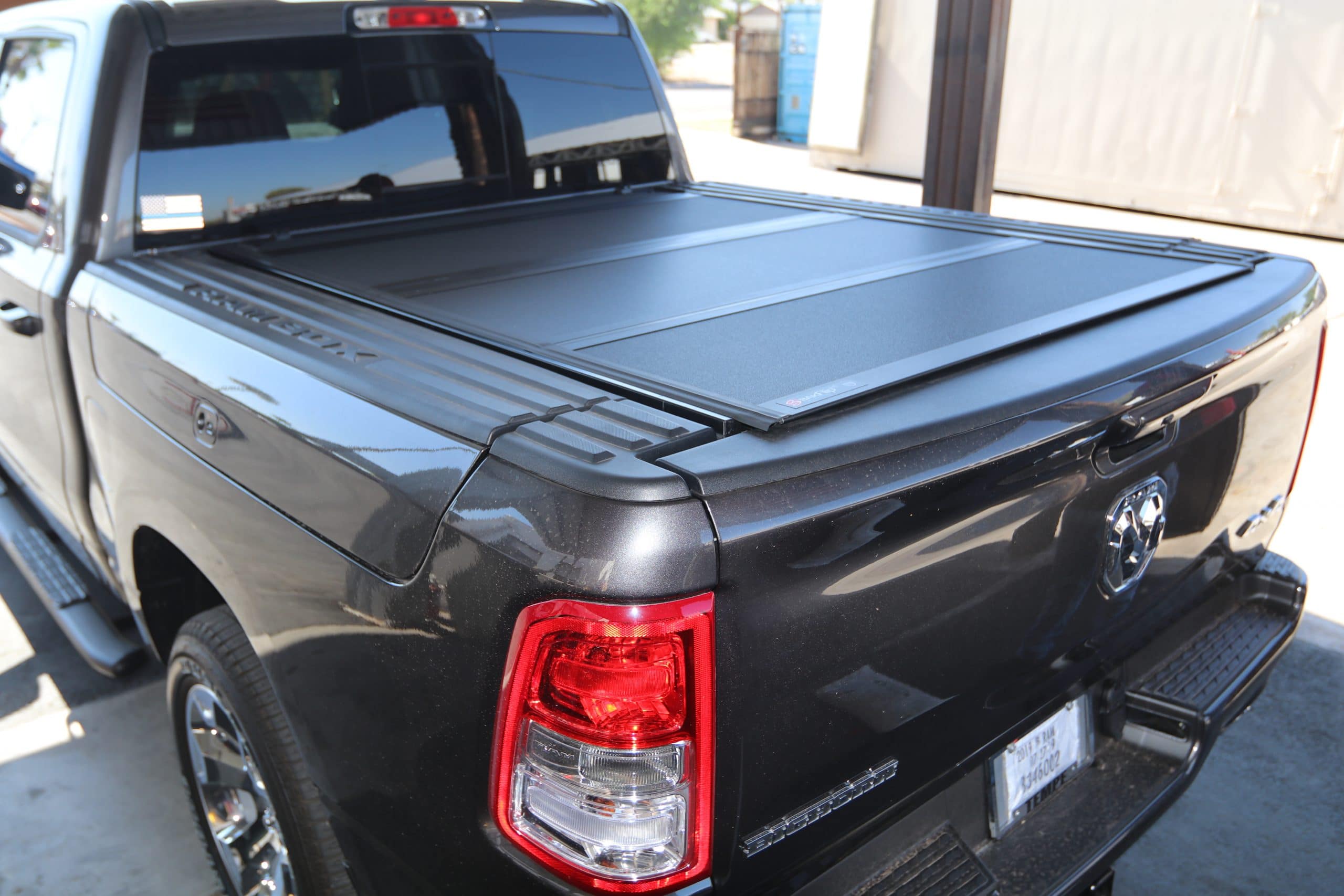 Bak, a USA-based brand, earned loads of positive customer reviews because of its successful innovation of MX4. While the tonneau cover is durable with scratch resistance, it is also a stunner with its polished matte black finish.
Its center is grounded on high-density foam to deliver long-lasting performance. It has a new upgrade with its tailgate to give you unencumbered access to the truck bed. Whichever side you open the cover from, you can always check out your cargo.
There is a latching system installed on the cover to keep it put during the move. Hardwearing, it will not quickly get worn out quickly.
In short, the MX4 has become a demanding product by dint of its user-friendly, sustainable, fashionable, and upgraded features.
Gator FX3 VS. BakFlip MX4: A Head-To-Head Comparison
| | | |
| --- | --- | --- |
| Characteristics | Gator FX3 | BakFlip MX4 |
| Panel Core: | FRP | Premium density foam |
| Finish: | Glossy black | Matte black |
| Appearance: | Textured | Smooth |
| Panel Frame: | Aluminum | Aluminum |
| Look: | Low profile | Low profile |
| Weight Capacity: | 300 lbs | 400 lbs |
| Weight Distribution: | Even | Even |
| Construction: | Semi flush | Entirely Flush |
| Hinges And Seals: | EPDM rubber | EPDM rubber |
| Bed Access: | Full | Full |
| Latching System Type: | Pull cord | Pull cord |
| Tailgate Seal: | Flap seal | Dual-action seal |
| UV- and Scratch-Resistance: | Higher | Moderate |
| Installation: | Bolt-on setup with minor drilling | Bolt-on setup with minor drilling |
| Price: | Affordable | High |
| Warranty: | 2 years | 5 years |
Key Differences Between Gator MX3 VS. BakFlip MX4
Materials and Finish
Both covers will amaze you with their build quality and materials. For starters, the MX4 has a full finish of matte black powder-coating with its high-density foam core. It helps the tonneau cover with its weight-bearing capacity. The panels, made with high-quality aluminum, are sturdy enough to stand their ground unaffected by any impact.
On the contrary, Gator FX3 comes with aluminum panels made of Fiberglass Reinforced Polymer (FRP). It makes the cover more durable and lightweight. As a result, users find it conveniently operable. It also resists heat, scratches, and dents. But if you compare it to its rival, it does the job better.
Appearance
The appearances of the two tonneau covers differ due to their finish. The MX4 has a matte look – the traditional and classy black color. But the other one, the FX3, is rather flashy with a texture-ish feel.
Although it depends on your choice, as per the majority, BakFlip beats Gator with its smooth and flawless surface.
Tailgate Seal
The Gator FX3 tailgate has a flap seal. You should close the cover after shutting down the tailgate to allow maximum water resistance. The seal type is semi-flush.
In contrast, it is entirely flush in the case of BakFlip MX4's tailgate seal. It has a dual-action tailgate seal that functions without depending on the tonneau cover.
Loading and Locking
Safety and security are the topmost crucial features for any tonneau cover because truck owners keep their valuable stuff in the truck beds, demanding protection.
BakFlip has paid good attention to that and equipped its MX4 with a dual-action tailgate seal. It helps you double-check your cargo prior to locking. When you close the tonneau cover, it will get latched automatically.
One may notice the seal overlapping the tailgate. If you prefer extra security, you can get a tailgate lock.
On the other hand, the Gator FX3 secures a user's truck bed better than their cabs once they roll over the cover and lock its tailgate. The lock will function automatically the moment you shut down your FX3.
Ease Of Operating
Installing and removing the FX3 is a piece of cake. The tonneau cover has 3 panels. First, you open the FX3 to put it against your truck cab. Then, you take down the tailgate to work the security latch. Finally, roll the cover toward the cab.
Reverse the drill when you want to remove the tonneau cover.
The MX4 also has a straightforward setting. Its patented design enables you to use the truck bed with the cover unremoved.
Simply roll the cover against your truck cab to work in the truck bed. Unlatch it from there and fold it up to take it out.
Compatibility
The MX4 fits with any vehicle from the 2015-2020 Ford F-150.
However, the FX3 offers larger compatibility. Talk about 2002-2018 Dodge Ram, 2015-2018 Ford F150, 2015-2-18 Chevy Colorado GMC Canyon, or 2014-2018 Chevy Silverado GMC Sierra trucks – you can get a Gator FX3 for any of them.
Price Range
Gator FX3 is the undisputable winner because of its reasonable price. Although it has a less-than-thousand price tag (a budget range for most users), the brand gives you a warranty of 2 years. With a price like that, it would not be too much to expect a higher warranty period.
But what if you were willing to raise your budget ceiling by some $300? Then you could buy the BakFlip MX4 tonneau cover and get a 5-year warranty. That is quite a fair deal, no?
Again, it is entirely your decision. Ask yourself what you prioritize – lesser price or higher warranty, and you will have your answer.
Gator FX3 VS. BakFlip MX4: Any Similarities?
There are some identical features of Gator FX3 and BakFlip MX4. For example,
Construction
Gator and BakFlip are USA-based and construct their tonneau covers from solid aluminum panels possessing built-in resistance to scratch. The panels are foldable and have a low-profile look.
Water Resistance
Each cover has a protective coating to help keep out water during rain and storms to keep your truck bed dry.
When water rolls toward your cover's rail system, it goes down via multiple drain tubes. They redirect it away, preventing it from accessing the bed.
Latching Mechanism
The companies geared their star products with the very same automated latching mechanism to make them stay put. Each applies a latch to lock the tonneau cover in its position when the foldable panels are not open.
Pull the string latch to roll the cover toward your truck cab to see your cargo. That is the way to open your tonneau cover. When you fold it back to close it, the panels will latch on their own.
Setup Process
The two-tonneau covers are super easy to handle concerning installation. You set them up using clamping rails. They will not involve heavy drilling or specific measures to do so.
You simply need to tighten the clamps enough and attach the cover top to the rails. They require the cover's drainage pipe to link with the truck bed's drainage through a simple connection. That is it. You will have them straightened out within an hour.
Weight
Both covers weigh exactly 71 pounds. So there is no scope for arguing about the lighter or heavier one.
But comparing them to others, their weight is manageable. Beginners will find that to their advantage.
So, Which Is The Better One?
BakFlip MX4 is the better one. The only reason one may not want it is its price. But it pays off really well with its resilient build, high protection, and prevention of scratches and dents. Also, count in the warranty, weight capacity, and ease of use.
I did not mention another point in the argument. BakFlip has a name for remarkable customer service, and many users want the assurance of a positive post-purchase experience. If you are one, you can depend on BakFlip.
Then there is the matter of appearance. It is not that critical a factor. But who does not want their vehicle to look classy?
On a relevant note, compatibility remains an issue. You saw that Gator FX3 complies with a wide variety of models. Since it is significantly more affordable than the MX4, you could use the savings if you own more than one truck.
Besides, they have the same construction, weight, and settings. So if you prefer FX3, I have no reason to stop you.
Final Words
Go for a tonneau cover per your preference. It is more important than the verdict from this Garor FX3 VS. BakFlip MX4 debate. After all, you are the one spending your money and taking care of it.
However, the point of the comprehensive discussion was to inform you about what to expect from which product. I hope it led you to the right tonneau cover for your vehicle. Good luck!
---
Sources:
https://tonneaucoverguide.com/bakflip-mx4-vs-gator-fx3/
https://tonneaucoverguide.com/gator-fx3-vs-bakflip-mx4/
https://comparetonneaucovers.com/gator-fx3-vs-bakflip-mx4/
https://realtruck.com/blog/bakflip-mx4-vs-gator-fx3/
https://tonneaucovershub.com/gator-fx3-vs-bakflip-mx4/