If you are concerned about the safety of your truck bed from poor weather and valuable cargo from theft, getting a high-quality tonneau cover will solve both problems. Preventing any damage to the bed, they protect your things from thieves and robbers. The best part is that the truck bed will stay dry and fine regardless of the weather condition.
When researching tonneau covers, two brands will pop up everywhere with their bestsellers: Extang with its Solid Fold 2.0 and Bakflip with its MX4. Bear in mind that they will confuse you the most because, according to customers, they are the most dependable upgrades for their vehicles.
But mark my word. After reading this Extang Solid Fold 2.0 VS. Bakflip MX4 comparison article, all your confusion will be gone. The head-to-head differences will lead you right to the more suited tonneau cover for your vehicle.
Overviews Of Extang Solid Fold 2.0 & BakFlip MX4
Extang Solid Fold 2.0
The Solid Fold 2.0 from Extang, a USA-based brand, is a hefty tri-fold tonneau cover for your car, re-engineered with polymer panels and an aluminum body to provide the best protection. Polypropylene is durable enough to outperform a mediocre aluminum cover.
Besides, it has a scruff- and scratch-resistant design to secure your truck from external damage. The texture of the matte finish gives it a brand-new appearance that lasts for years.
Additionally, the EnduraShield boards will starve off the detrimental snow, dust, and UV rays from impairing your items. That will also keep the cover from getting too hot. So it will stay cool even during the dog days.
It can cope with excessive pressure despite its lightweight body. You will find it manageable to operate. There is no need to stay cautious about damage when loading the vehicle.
Then you have the EZ-lock mechanism to open the cover, a feature to facilitate the loading and unloading.
On the whole, the Extand Solid Fold 2.0 appears to be a worthy investment for upgrading your truck.
BakFlip MX4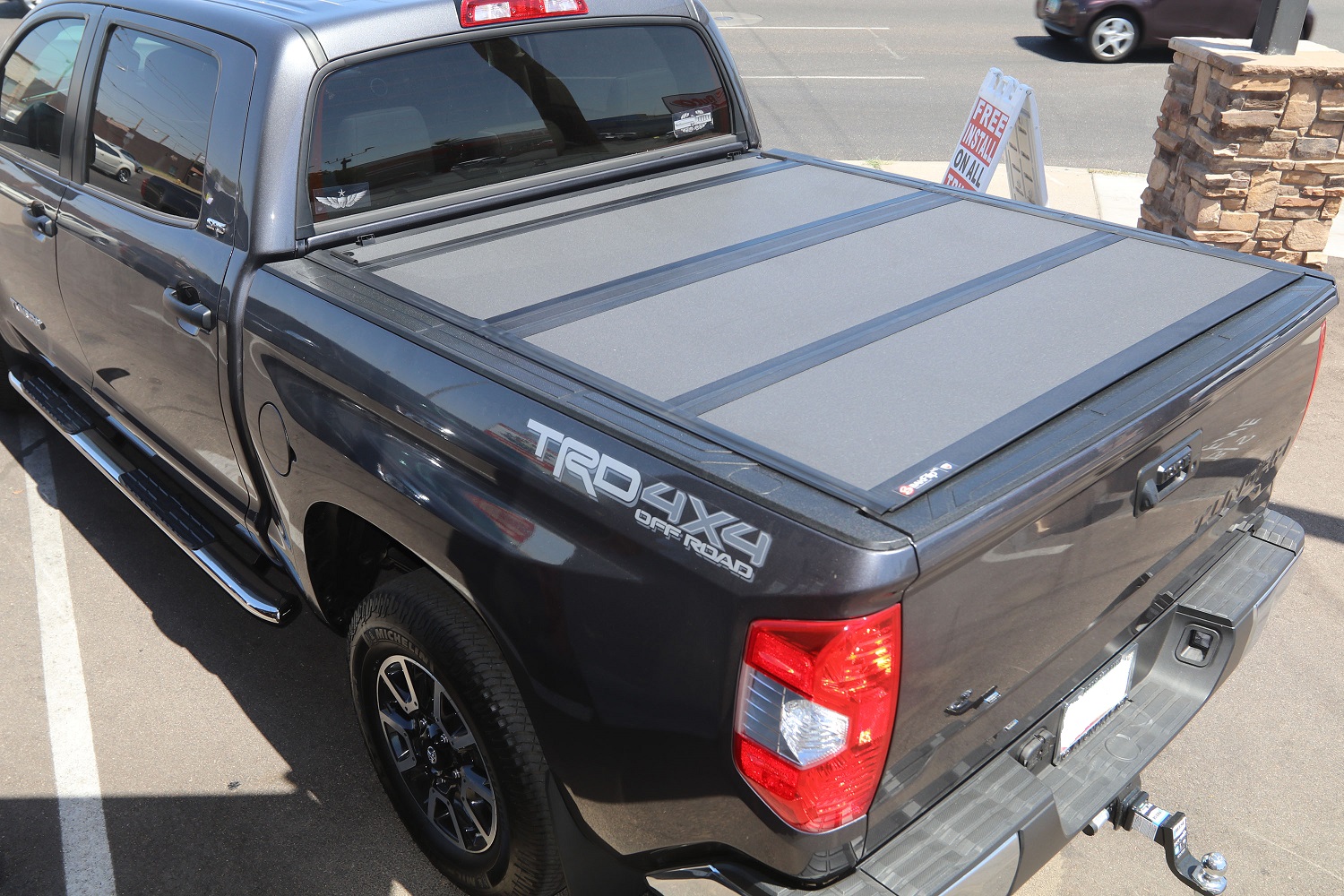 BakFlip MX4 tonneau cover is a successful experimental creation of Bak. It is fashionable and sleek with a refined matte finish that will resist scratches for as long as it goes.
Its core consists of high-density foam to enhance its sustainability. The brand upgraded its MX4 with a new tailgate for effortless access to your truck bed. So you can get to your cargo irrespective of the side you use to open the tonneau cover.
Moreover, you will find a combined latching mechanism that enables the product to stay put when the truck bed is in use. It will be functional all year round without easily giving in to wear and tear. Note that the manufacturer of this product is also in the USA.
All in all, the gleaming, user-friendly, and damage-resistant properties make the tonneau cover a hotcake among drivers and truckers.
Extang Solid Fold 2.0 VS. Bakflip MX4: A Head-To-Head Comparison
The comparative analysis in the following table will briefly introduce you to the tonneau covers' key features.
| | | |
| --- | --- | --- |
| Characteristics | Extang Solid Fold 2.0 | BakFlip MX4 |
| Materials: | Polypropylene and Aluminum | Aluminum |
| Finish/Look: | Black matte finish | Black matte finish but more low-profile |
| Surface: | Texture | Smooth |
| Safety Mechanisms: | Dual-action tailgate seal | EZ-lock tailgate clamps |
| Setup: | DIY with clamps and latches | DIY without drilling |
| Load-Bearing Capacity: | 600 lbs | 400 lbs |
| Compatibility: | 2021-2023 Ford F-Series, GMC Canyon, and Chevy Colorado | 2015-2020 Ford F-150 |
| Weight: | 54 pounds | 71 pounds |
| Warranty: | 3 years | 5 years |
Key Differences Between Extang Solid Fold 2.0 And Bakflip MX4
Design And Look
The first-round winner is BakFlip MX4, which you may have guessed from their intros. Mind that both trucks have a finish of black matte, but BakFlip has a smoother design, making it more appealing to the eye.
You can use it on any vehicle, and it will look great regardless. You will not spot it from the rearview window, as it finely settles in with the truck bed.
Contrarily, the Extang tonneau cover comes with a scruff-resistant matte finish. The only area where it lost to the BakFlip is that the latter is more low-profile. It has a texture-ish feel, and most owners prefer it less than a sheeny surface.
Materials
The most remarkable difference between these covers lies in their making. Extang sourced TPO panels and combined them with polypropylene to manufacture its Solid Fold 2.0. Its polymer layer protects it against scratches and scruffs. Since it has a reputation for staying cool despite the heat, many drivers frequently traveling in deserts like it better.
The MX4 from BakFlip has a sturdy and full-fledged aluminum body. The aircraft-grade metal is flexible and light, so it is easily operable. That also means it is more beginner-friendly than the other.
Ease Of Setup And Use
Most users want DIY installation instead of professional servicing. That is why both covers are customer-favorite because of their setup systems. Both have a setup process without bolts and drills, letting you do it yourself.
Their designs include clamps and latching mechanisms. So, fixing them in their correct positions is all you have to do to set them up. It also makes detaching the cover simple for you.
For example, you install the Extang with hand-tightened clamps without using any tools for the most part. Again, it is some bolt-on clamps to set up the MX4 with no drilling.
Let's talk about opening and shutting down the covers. Users find BakFlip a little more convenient than its competitor. It lets you access the layer from any side and open it using the tailgate end with no issues. Unfortunately, Extang Solid Fold 2.0 does not give you the same level of accessibility.
Durability
Both brands designed their tonneau covers to be hardwearing and weather-resistant under all circumstances. That is why they perform longer than other bed covers. Their matte finish will not wear off soon because of their by-default UV protection.
The FRP coating of the MX4 makes it an excellent heat insulator that will keep your stuff cool during the summer while preventing corrosion. As for the Solid Fold 2.0, corrosion will also not be a problem. Its hard automotive-grade plastic will handle that before it can be your concern.
However, Extang beats BakFlip with its weight-bearing capability of 600 lbs, whereas the capacity is only 400 lbs for MX4. Chances are, the latter will give away faster if you often use it to take heavy cargo.
Related Post: Top Rated Bedliner Reviews from Bedrug
Weight
You will get more convenience from the Extang tonneau cover. It only weighs 54 pounds. A lightweight cover is easier to handle, especially for beginners.
Contrastingly, the MX4 has a bulky weight of 71 pounds. So, anyone about to purchase your first-ever tonneau cover may need some time to get used to it.
Bed Access
You can access the Extang Solid Fold 2.0 by securing the buckle straps. That will allow the tonneau cover to roll up to the last panel.
That applies to the BakFlip cover too. You use the prop rods to fold the cover and tilt it against your cab.
Weather Resistance
Solid Fold 2.0 has triple-fin lines to border the cover perimeter and keep away debris and rain. The blade-type seals are integrated perfectly with hinges and corners, supported by hinge caps and polymer corners for additional protection.
The polymer will not absorb heat, tested to have high weather resistance. Consequently, your stuff inside will remain safe from high temperatures.
On the contrary, BakFlip sealed its cover at the bulkhead, tailgate, and all sides. The rails also dispatch water to drain tubes routed out of the truck bed. They provide extra safety to guarantee a sound cargo space experience for you. So, even when water intrudes into the bed, they will immediately take care of it.
Warranty
Users prioritizing dependable customer service and a secure post-purchase experience will want to choose BakFlip over Extang. You get a 3-year warranty from Extang, but BakFlip offers you a long-term period of 5 years.
Compatibility
Solid Fold 2.0 has higher compatibility than MX4. You can use the first one in any 2021-2023 GMC Canyon, Ford F-Series, or Chevy Colorado.
But your options will narrow down if you choose MX4. It only complies with the 2015-2020 Ford F-150 model.
Storage For Cargo
The Extang tonneau cover will maximize your cargo space. You will not have to compromise your bed space with this cover. You simply need to open and buckle it up to carry chunkier loads. It will open and get removed instantly to give you full truck bed access.
But wait. You will not have to take out the BakFlip MX4 to get full access. It is flappable and rollable. So it will open in several positions.
You can fold it vertically, leaving the third brake uncovered. It will give you the whole bed space. Therefore, it earns easy bonus points in terms of cargo storage.
Security And Locking Mechanisms
The Extang Solid Fold 2.0 will simultaneously protect your cargo from severe weather conditions and potential theft. The EZ lock mechanism self-locks the bed flange using clamps without requiring much manual involvement. The spring-loaded system keeps it smooth while tightly locking the clamps to the bed rails.
One can only access the clamps by modulating the locking clamps. That consequently makes it more challenging for burglars and thieves to steal anything.
On a different note, the BakFlip MX4 operates with a latching system. So once the panels connect with the partially or entirely closed bed rails, they become latched independently.
It gets fastened to the cover's tailgate once it is shut down. You can close it anytime, whether the tailgate stays closed or open.
Price
Here is the game changer to put an end to the debate for a lot of you. Including all features and benefits, BakFlip MX4 may charge you at least a hundred bucks extra from Extang Solid Fold 2.0. That said, the price can vary because of the need, shop, website, or season.
The difference may not be much for some users. But when you own multiple 2021-2023 GMC Canyon, Ford F-Series, or Chevy Colorado, and they all need a tonneau cover, the price will become a matter of concern.
---
Extang Solid Fold 2.0 VS. Bak MX4: Which One Is Better?
Since I promised that the article would give you a definite answer, here it goes: Extang Solid Fold 2.0 is the better one. I will provide my argument in favor of it below.
It has a sturdy material that makes it incredibly lightweight and advantageous. The matte black coating will protect the panels from any harm.
While it offers almost the same comfort in operation, it has a simpler setup than MX4.
It has a significantly higher weight-bearing capacity.
It is beginner-friendly and suitable for professionals too.
It does everything its rival does at a more affordable price.
But if you had your eyes on the Bakflip, there is no reason why you should switch now. It has better durability, accessibility, and weather resistance. Plus, it has a stunning look. Customers highly admire the brand for its customer service. So, if your budget supports your decision, stick to it!
---
Final Words
The minute breakdown of the Extang Solid Fold 2.0 VS. BakFlip MX4 was to help you see through their differences and fix your choice.
While selecting the better option based on its characteristics and price, remember your preference, purpose, and need. That should help you the most in reaching a final decision.
---
Sources:
https://tonneaucoverguide.com/extang-solid-fold-2-0-vs-bakflip-mx4/
https://realtruck.com/blog/extang-solid-fold-2-0-vs-bakflip-mx4/
https://shop.tonneaucovered.com/extang-solid-fold-2-0-vs-bakflip-mx4-which-one-should-you-choose/
https://mrtonneau.com/extang-vs-bakflip/
https://comparetonneaucovers.com/bakflip-fibermax-vs-extang-solid-fold-2-0/