Autocraft battery is an exclusive name in the automotive industry. It supplies some of the best aftermarket car batteries to enhance further performance. The users are truly pleased with their applicable service.
In the affordable price segment, Autocraft has brought about a wide range of car batteries. However, it won't be wise to get any deal without a clear idea of who makes Autocraft batteries. In this post, we will reveal the in-depth background and product lines of Autocraft batteries. So let's get into it.
Who Makes Autocraft Batteries?
The giant American battery manufacturer Johnson Controls In. owns the Autocraft batteries. It also produces HVAC, fire, and security equipment for buildings. The headquarters is located in Cork, Ireland.
Johnson Controls is one of the world's largest suppliers and recyclers of automotive batteries. Recently, the company made an announcement of investing $450 million USD in its current facilities to develop and grow the capacity of its aftermarket service.
This multi-industrial leader serves a wide range of consumers in more than 150 countries. Each year, they supply approximately 152 million batteries to aftermarket retailers. About 15,000 employees globally work under the company and manufacture, distribute and recycle their automotive batteries.
Adding more convenience and safety features is one of the company's top priorities. It has a strong manufacturing base that contributes, in addition, served to aftermarket demand. It also continues to add new technologies for fuel-efficient start-stop that leads to future energy storage.
However, in 2019, Johnson Control rebranded as Clarios battery and continues to provide automotive batteries and services. Till now, Autocraft batteries are the product of Johnson Controls.
Where To Buy Autocraft Batteries?
Advanced Auto Parts is the major retailer of Autocraft batteries in the USA. Battery retailers have many physical stores where you can purchase these products. You can also order them online from Advanced Auto Parts. Thereby, Walmart, Auto-Desk, etc. are also the best places to get your Autocraft batteries.
Benefits Of Installing Autocraft Batteries
Vehicle batteries provide a jolt of electricity that is necessary to power the electrical components of your vehicle. Without battery power, your car won't start. So it is a pretty huge responsibility to get the right auto batteries.
As you know, Autocraft batteries are very popular for their quality performance. It has many benefits, which you can discover. For an instance:
Next Gen-Technology
All types of Autocraft batteries feature the PowerFrame grid technology which is the most advanced technology of vehicle batteries. This technology is developed by Clarios. This innovative design ensures a stronger and long-lasting optimum performance of your car battery.
Great Value
Buying an Autocraft battery is a great deal for budget-oriented consumers. Because one can enjoy a considerable value for the overall sum of cost. Moreover, the battery performance is just exactly that it is labeled or specified.
Reliable Durability
The patented PowerFrame grid technology minimizes the corrosion, in turn, it prevents premature battery failure. The brand also claims that these batteries are three-time corrosion-resistant and more durable than other grid designs. This is the most reliable technology that is designed to last.
Power-packed Performance
The positive grid provides the energy that you need to start your vehicles. As a result of start after start, the battery gets rusted overtime during the charge-discharge cycles. Autocraft batteries resist the fracturing of the grid and allow your vehicle to continue moving.
Over 60% of electrical flow is delivered by the battery, resulting in better connectivity. It ensures stabilizing voltage in order to keep the engine running. Therefore, you will have peace of mind knowing that your car will always start.
Contribution To Environment
As compared to other brands, Autocraft batteries use 20% less energy and emit 20% fewer greenhouse gases in the manufacturing process. So ultimately, you can make a little contribution to defending against global warming.
What Are The Types Of AutoCraft Batteries?
Autocraft batteries offer a wide array of options for automobile owners. They offer different types of batteries in various capacities and price segments. Now, it's time to explore some popular types of Autocraft batteries.
1. AutoCraft Silver Battery Line
Autocraft silver is a cost-efficient battery line. It is a mid-level battery with a decent amount of power. But you won't get the PowerFrame technology in this battery so you can't expect high consistency. However, this silver battery is crafted for replacing the OEM batteries. It will match the quality and specifications of most stock batteries. They are suitable for using mild weather conditions.
2. AutoCraft Gold Battery Line
Autocraft gold batteries are the most demanding batteries among similar categories. The series is designed to provide maximum starting power in any climate, even in the coldest conditions. Battery manufacturers design their batteries to meet the CCA requirements of your vehicle. It confirms the fastest start every time.
Gold batteries are equipped with PowerFrame positive grid technology that prevents premature failure and resists corrosion. Over the course of the battery's life, they provide superior starting performance. Moreover, you can utilize these batteries for handling larger engines.
3. Autocraft Platinum Battery Line
Autocraft platinum is a line of AGM (absorbent glass mat) batteries and this is the top-notch product line of the brand. For modern power-hungry vehicles, you can choose these batteries without any confusion. Its craftsmanship ensures that the battery will last up to 2x life than a standard flooded battery. If you have a vehicle with higher electric demands like DVD players, GPS, plug-in accessories, and start-stop applications, the Autocraft platinum battery line is the best solution.
Though the main features of the platinum batteries are similar to gold batteries, yet you will have extra benefits. For example, platinum batteries come with a non-spillable design for mounting in vehicle cabins. They cycle more and recharge faster. They assure excellent starting power in extremely high and low-temperature environments. The vibration-resistant and maintenance-free features are also impressive.
4. Autocraft Marine Battery Line
Autocraft Marine batteries are designed to power up all your necessary accessories on the boat and RV. they are suitable for withstanding the high electrical demand of fish finders, trolling motors, radios, and GPS systems.
These batteries feature high-density active plate materials for superior power and battery life. They have corrosion-MBN terminals offering the quick ability to connect and disconnect accessories. There is a polypropylene case to prevent damage.
5. Autocraft Powersport Battery Line
This product line is a bunch of 12-volt AGM batteries that are ideal for motorcycles, ATVs, personal watercraft, and snowmobiles. These batteries are always ready to go as they are factory activated and permanently sealed. The highly porous microfiber separators effectively trap and absorb the electrolyte so they become non-spillable and leak-proof.
Powersport batteries feature advanced AGM technology for premium starting and withstand repeated charging and discharging. They have super vibration resistance, and water resistance. As a result, the batteries will give you 5x longer service than other lead-acid batteries. We liked the most the built-in indicator for reading battery capacity.
6. Others
Autocraft has every type of battery that you need in the field. We have explained the popular types, yet you can get batteries for lawns, gardens, golf carts, heavy-duty farms, and trucks. As you can see there is everything that you need.
Related Post: How to Disable Alarm on Dodge Ram? – Expert Guide
Top 3 Autocraft Batteries Review: Editor's Choice
1. AutoCraft Silver Series Battery 700 CA
Autocraft Silver Battery 700 CCA is the best pick for budget finders. It is a lead-acid battery that is pretty good for the price. It has 110 minutes of reserve capacity with cold-cranking amps of 700 CCA. There is a 2-year of warranty with the purchase. However, the Autocraft silver battery isn't shippable, so you may have difficulties getting it.
Pros
Affordable pricing
Adequate power supplying
Suitable for replacing OEM batteries.
Cons
Not ideal for larger vehicles.
2. Autocraft Gold 51R-2 Car Battery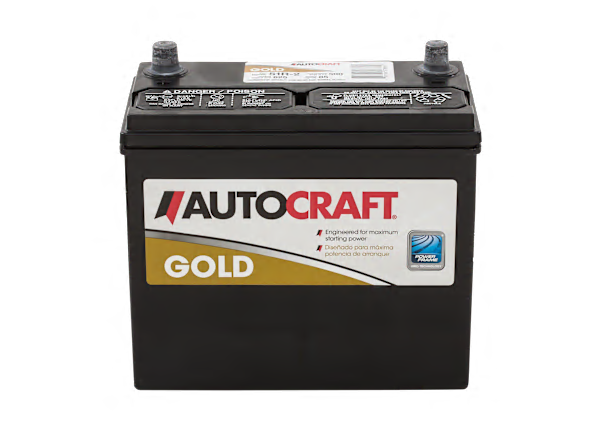 Autocar Gold 51R-2 Car battery is ideal for smooth operating in warmer or colder climates. It offers impressive performance at less cost. The cold-cranking scores are also excellent. You will have innovative PowerFrame technology, relying on increased electrical flow.
This battery provides a longer lifespan and has a reserve capacity of 130 minutes. You will also get a 36-month of free replacement warranty. However, if you prefer high consistency and durability, you can get Autocraft gold batteries.
Pros
Perfect for medium to large vehicles.
Works in the harshest conditions.
Long-lasting usage.
High consistency.
Cons
Doesn't have a handle which leads to difficult installation.
3. AutoCraft Platinum AGM Battery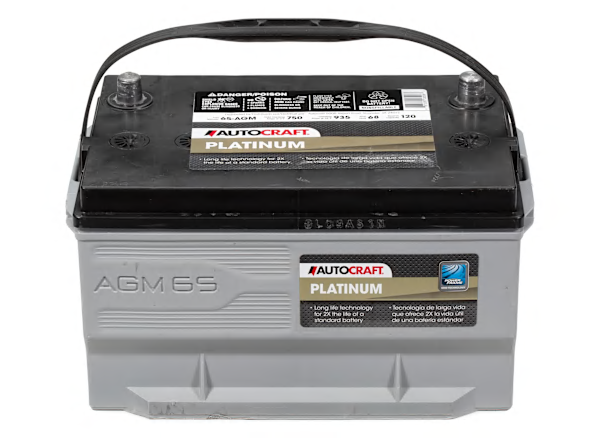 This AGM battery is the most reliable and latest addition to the brand. This battery is suitable for power-demanding vehicles, even offroading, and aftermarket vehicles. Further, the AGM construction ensures spill-proof usage in any direction. This battery can withstand heavy vibration and performs well in challenging weather.
The battery has a 70 AH Amp Hour rating and an 850 CCA cold-cracking rating, making it the most reliable choice for you. And of course, the battery features the PowerFrame technology, coving an extended battery life. 3 years of warranty is included with the battery.
Related Post: How Long Does It Take to Rebuild a Transmission?
Pros
Provides ample amount of power output for heavy-duty electric vehicles.
Longer lifespan.
High power reserve capacity.
Non-spillable design.
---
How Much Does Autocraft Batteries Cost?
Since there are a lot of variants among the Autocraft batteries, the price range varies from product to product. Yet if you consider the overview, these batteries come at reasonable prices. They offer the exact value that you want for the price.
The silver battery line is the most affordable option, the gold battery line. On the contrary, the platinum batteries are the premium ones and you will have a top-notch experience. They cost a bit extra than other types of batteries.
How long do Autocraft Batteries Last?
Plenty of matters affect the lifespan of the batteries, so you can not tell the exact time. But if you maintain and charge properly, the batteries will last an extended period of time. Typically, the Autocraft silver and platinum batteries last about three to five years and the gold batteries last five to six years.
Autocraft Warranty
All types of Autocraft batteries come with a designated warranty with purchasing. The duration can be different. The silver batteries have two years, whereas the gold and platinum have three to four years. But the warranty doesn't work in case of cover failure, collision damage, misuse, or abuse, including any modification or accidents.
Some Cons To Consider
You need to take a few things into account. Some cheaper Autocraft batteries aren't made well for some types of vehicles and their quality isn't so good. These batteries won't fit luxury vehicles that include computers, control units, and various sensors as they demand high power consumption. So you should go through the OEM specifications before buying any batteries.
Moreover, Autocraft batteries aren't sold in available local and online stores. So, it takes time for getting the product delivered.
Related Post: Who Makes Kohler Oil Filters? – Brand Overview, Benefits, & Top Products
FAQs About AutoCraft Batteries 
Is AutoCraft gold a good battery?
You will have many benefits from utilizing the Autocraft gold batteries. They come at a reasonable price, feature PowerFrame technology, deliver satisfying power performance, and withstand a long time in extreme conditions.
When to change the car battery?
You should know when you need to change the car batteries. If your car engine is getting slow to crank, or the headlights are dim, then this is a sign of a dead battery.
What Are The Best Alternative For Autocraft Batteries? 
There are many other renowned brands for the best alternatives to Autocraft batteries. For example Duralast, Diehard, ACDelco, Optima, and Everstart. They provide some of the best automobile batteries over there.
---
Everything Need to Know About AutoCraft Battery
---
Final Words 
A battery is a significant part of a vehicle. So you should never neglect its quality over price or anything or it can cost you more in the long run. Autocraft is a renowned brand and here, we have covered every single detail about Autocraft batteries. You can use this information to make an informed decision while purchasing batteries. However, every car owner will be impressed with their accessibility, unique service, and affordability.
---
Reference: 
https://en.calameo.com/accounts/2460001
https://www.quora.com/
youtube.com/watch?v=Uth6q5q-UTU
https://whoatwherewhy.com/what-company-sells-autocraft-batteries/