When upgrading a vehicle for better performance, acceleration, and exhaust, the first choice most people make is the cold air intake. But what to do next?
After completing your CAI upgrade, you can focus on upgrading the camshaft. It also helps you to get smoother acceleration, better performance, improved fuel economy, and better torque. Some cams offer you an improvement in exhaust sound too.
I guess these are why you're looking for the best hydraulic roller cam for 454.
Whether these are the reasons or not, I can help you with suggestions about the cams you're searching for. I've tested several cams, checked expert suggestions, read thousands of user reviews, and checked manufacturers' claims to find out the best ones from the market.
Want me to help you? No worries. I've talked about the five best Chevy 454 hydraulic roller camshafts in this article. My picks are based on several factors. You can check these to find out yours.
This article also contains some necessary information about these, including some tips if you're switching to hydraulic roller cams for the first time. So, this is going to help you somehow. Don't miss it.
Top 5 Best Hydraulic Roller Cam for 454 Chevy Reviews
1. COMP Cams 11-600-8 Thumpr Hydraulic Roller Cam
This hydraulic roller cam from Comp Cams is the result of 30+ years of experience the company has. So, it claims the cam to be the most effective one from the brand. Most users have said the same. Let's see what the actual situation is here.
If you love the sound of your vehicle, this is for you. It is designed to produce a powerful exhaust note through long exhaust duration and early intake valve opening. But this is not the only thing you'll get from this cam. It ensures excellent horsepower and a wide torque curve to deliver a smooth and better performance.
It comes with a lobe separation angle of 107 degrees, which is ideal for high-end performance without hampering the engine. For the 1,700 to 5,500 RPM range, this is a perfect pick.
The cam can be picked alone or with a Lifter Kit, Gear Drive Kit, or K-Kit. So, choose the package you need without any hesitation.
Overall, this is an excellent pick if you're looking for a cam for high-performance street riding. Besides the lifter, you'll find installation lube and instructions in the package.
Related Post: Top Rated Air Bag Suspension System Reviews
Pros
Available in many options
Improves the exhaust noise
Better performance with a wider torque curve
Suitable for daily performance vehicles
Cons
Installation is a bit complex, even with instructions
---
2. Comp Cams 11-450-8 Camshaft (CB 290H-R10)
Comp Cams has several options when it comes to hydraulic roller cams. That's why most of the suggestions I'll make are from this brand. Now I'm going to talk about another one from it.
Try this one if you need a hydraulic roller cam for the 2,500 to 6,200 RPM range. You won't find many faults in this cam. Being an example of high-quality material and smooth craftsmanship, this cam offers unparalleled performance for daily drive vehicles with its 110-degree lobe separation angle.
Also, it gives better torque with a wider torque area compared to most other available cams from competitors. Thus, it allows you to drive smoothly on the road.
You can buy it alone. you'll find it with kits too.
If you're a fan of hydraulic roller cams, trying this would be worthy. It comes with everything required to install in your vehicle. So, you won't have to pick additional parts or anything.
Pros
Comes to offer a smooth performance
A bit cheaper compared to other cams
Includes everything needed to install
---
3. Xtreme Energy 218/224 Hydraulic Roller Cam
The extreme energy series from Comp Cam is designed to ensure a boom in the overall performance of the vehicle. You'll find it comes with several features that allow it to ensure extreme performance. Let's see what it has.
The one we're talking about here is designed for the 1,600 RPM to 5,400 RPM operating range. With a lobe separation angle of 110 degrees, it ensures fantastic torque and excellent performance. For street carbureted performance, this camshaft is a great pick.
In this cam, the lobe profiles are designed to operate quickly. As a result, responsiveness increases. Also, the area under the life curve increases. Thus, you can enjoy better handling and roar.
Overall, if you're looking for performance over anything else for your daily drive, trying this cam is a must. I've found it very efficient and worthy of the bucks. So, you can try it.
Pros
Smoothly designed and manufactured
Suitable for daily drives looking for performance improvement
Good performance in the low RPM range
Can be used with stock manifold exhaust
Cons
A bit better torque would be appreciated
---
4. Lunati XXX11232HR Bootlegger Stage 2 Hydraulic Roller Cam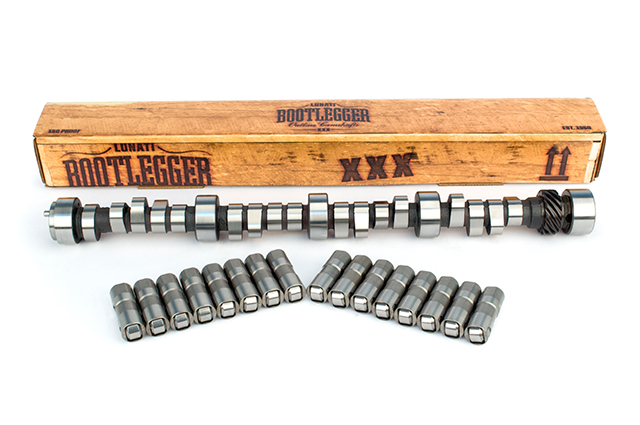 If you want your hydraulic roller cam to be aggressive, Lunati has this for you. Not all the cams from Lunati are great, but this one should be a fantastic one for sure.
With a 108-degree lobe separation angle and 104-degree intake centerline, it offers a boost in the overall performance of your engine. As a result, you'll see an improvement in street performance. It is mainly known for producing low and mid-range power. Thus, you'll enjoy a boost without any effort.
Besides performance, it enhances the exhaust tone too. The horsepower gain results in an uplifted exhaust note that will blow your mind.
It comes with a 2,700 to 5,900 RPM operating range. So, for your 454 Chevy Big Block, this can be a good pick. With 3000 stalls and 3.73 rear gear, it works the best.
I suggest you pick this if you're looking for overall improvement. Compared to the ones from Comp Cam, this camshaft comes with a slightly lower price. This is another advantage of it.
Related Post: Top 5 Best Shocks For Silverado 1500 4wd
Pros
Comes with a reasonable price tag
Ensures value for the bucks you spend
Improves performance and exhaust tone
Includes assembly lube in the package
Cons
Doesn't come with installation instruction
---
5. COMP Cams K11-432-8 Xtreme Energy Hydraulic Cam
This time I'm talking about a camshaft with K-kit, just in case you're looking to replace your K-kit too. It is also from Comp cam because this company has numerous cams and related kits for 454 Chevy.
The camshaft in the kit comes with a 110-degree lobe separation angle to ensure satisfactory performance improvement. The optimum RPM operating range for this is 2,200-5,800 RPM.
If you're looking for high-performance street use, this K-kit is a perfect choice for you. For street carbureted applications, it is designed specifically. The lobe profiles open quickly to offer better responsiveness.
It also ensures more vacuum under the lift curve, which increases the duration. Thus, the overall performance is uplifted once your car has this K-kit and camshaft installed.
The K-kit comes with everything needed for your vehicle. You'll find the list of components it has. Hydraulic Roller Lifter Set, Magnum Double Row Timing Set, Valve Spring Kit, Single Grooves with Lash Cap recess, etc., are some of the components included in the package.
It is a perfect pick for cars with 2200+ stalls and 9:1+ compression. If it meets the specifications, you should try this.
Pros
A perfect pick for high-performance street use
Improves the overall performance
Everything is included in the package
Cons
Installation is a bit complex
---
Best Hydraulic Roller Cam for 454 Buying Guide
Picking the correct hydraulic roller cam requires you to focus on several factors. If you don't do so, you'll end up with one that doesn't go well with your vehicle. Also, the performance won't be satisfactory. So, for you, I'm sharing some key points to check before you finalize your hydraulic roller cam.
Lobe Separation Angle
The angle the camshaft's intake and exhaust lobes make is called the lobe separation angle. This is important because the right angle helps you get the best output without damaging the camshaft or engine.
Typically, a wide lobe separation angle ensures more power at low RPM. But if it is too wide, you might end up with improper functionality and even a damaged engine. So, I suggest picking something with a lobe separation angle of 100 degrees or a bit more.
RPM Range
Though camshafts are designed to work with an RPM variety, each has a specific range. So, you need to check the RPM range and make sure that it is compatible with your engine's RPM range.
If these two don't match, you can't expect the cam to work with your engine correctly.
Overlap Degree
Overlap degree is the result you find if you subtract the intake duration from the exhaust duration. A high overlap degree is responsible for loud engine sound. On the other hand, a low overlap degree means you won't get enough power. So, picking the right overlap degree is a must.
Experts suggest having one with a bit more than 30 overlap degrees.
Valve Lift
The valve lift is the highest lift of the cam in both the intake and exhaust valves. This is a crucial factor.
A high valve lift is always appreciated. However, while going for a high valve lift, you should ensure that the valve springs are strong, the heads offer adequate clearance, and the valves can flow enough exhaust gas.
Price
Typically, highly-priced parts come with high-quality material and excellent craftsmanship. This is also the same in the case of the camshaft. So, I suggest going for the ones that come with an expensive price tag. However, check the material and reviews too.
Don't let the price affect your buying decision in this case. Spending more ensures better performance and durability.
---
Roller Cam vs. Flat Tappet: Which is Best? 
If you're looking for performance, roller cam is the best pick for you without any hesitation. It ensures smooth operation and maximum power. There are several reasons for it.
The cam can spin smoothly in the roller lifter because of less friction in the camshaft. Also, the cam opens and shuts the valve faster than flat tappets. This results in the valve being full lift for a long time.
On the other hand, flat tappets can't offer such performance. Compared to flat tappets, roller cams ensure around 30% better performance.
However, such improvement in performance should cost you something, right?
Roller cams come with a high price tag. A roller cam costs you around 200% more than a flat tappet. Besides, you would have to spend more on installation in most cases. From this perspective, flat tappets are better.
The bottom line is that roller cams ensure better performance than flat tappets. However, this doesn't mean that flat tappets can't show performance. From all perspectives combined, a flat tappet is a right pick for a strict budget range. But if budget is not a big deal for you, going for roller cams is the best thing you can do.
---
Hydraulic Lifter vs Solid: What's the Difference?
Before the invention of hydraulic lifters, solid lifters were used to open the engine valves. These are solid pieces of metal. On the other hand, hydraulic lifters do the same but differently. They pump oil through pushrods for this job.
Hydraulic lifters come with a significant advantage over solid lifters- maintenance. They don't require continuous maintenance like solid ones. In solid lifters, you need to fix the valve lash from time to time. If you don't fix it regularly, the valvetrain may not last long.
However, hydraulic lifters come with issues too. The weak point you'll find is the pumping design. They collapse a bit after some time and cause a bit of buffer. As a result, they open the valve slower compared to solid ones.
In the case of streetcars, this doesn't leave too much impact on the performance. But in the case of high-rev vehicles, this might hamper the performance a bit. So, if you're looking for maximum performance at any cost in high-rev vehicles, hydraulic lifters are not for you.
Also, hydraulic lifters are known to be a bit weak at high RPM, like 8000 or more. Though new inventions in this field are allowing them to withstand high RPM, like 7000 or more, going for solid ones for high RPM is better. The reason is- solid lifters have fewer parts to break.
---
Tips to Switch from Solid Flat Tappet Cam to Hydraulic Roller Cam
If you're switching to the hydraulic roller cam for the first time, some simple steps can help you to get the best benefit. Let's look at those.
Pick the complete kit when it is the first time. The complete kit allows the cam to run smoothly and helps your vehicle adjust to the new system.
Roller camshafts can damage gear because of the material they are made of. So, pick durable distributor gear. A melonite-treated steel gear works well.
Standard fuel-pump pushrods can damage the camshaft, which is made of billet steel. So, you need to change the pushrod into a lightweight one. Comp Cam uses a bronze tip on the head that touches the camshaft. You can try this to save your camshaft.
When switching to a roller camshaft, the pushrod length should be checked too. Roller ones required a bit shorter pushrod compared to flat-tappet ones. Use a pushrod length checker to determine the length of pushrod you need.
Picking the two-piece timing chain cover made of Aluminum is a good choice. You can go for a steel-constructed one, but it has some limitations. Also, the reinforced steel cover gives you a stock look. But the two-piece aluminum cover ensures a race-ready look.
---
FAQs About Roller Cam
What is important- going for the brand or the one that fits?
In the case of a camshaft, good brands offer good ones. But fitment is important. If it is not a good fit, you might end up with an unsatisfactory performance and even a damaged engine. So, fitment should be the priority when you're choosing a cam.
Which is better- Howards cam or Comp cam?
In the world of cam, both these two brands offer high-quality cams. But Comp is more known compared to Howards. So, don't worry about the brand when you have options from this. Pick the one that fits and ensures the best performance.
Do I need to break in the hydraulic cam?
The answer to the question is not clear. Some say that hydraulic roller cams don't need to be broken in. On the other hand, several enthusiasts have said that breaking in the new hydraulic cam helps it to last for a long time.
To find the exact answer for the one you pick, communicate with the manufacturer directly. They can help you to get the perfect answer for the specific one you've picked.
---
How to Install Chevy Hydraulic Roller Cam
---
Final Verdict
Most of the picks are from Comp Cams because this company significantly impacts this market. I've shared my top five picks. You can pick one from these.
The ones I've discussed here are designed and built for performance improvement and torque. Among these, I would prefer the Thumpr, the first one I've talked about. With an ideal lobe separation angle, it offers the best performance for street cars.
So, it's your time to make a decision. Pick the ones I've suggested if everything matches. These are the best options indeed. However, you can go for other options available in the market too. Just make sure you're deciding carefully.